Reusable bags are a practical way to reduce plastic use and promote an eco-friendly lifestyle. As plastic has become more and more harmful to our environment, we will investigate how we can make a difference and ensure a better future for the planet.
Why are Reusable bags good for the environment?
There are several reasons why reusable bags promote the development of a sustainable world. The first is the reduction of plastic consumption. You should know that every disposable plastic product is a threat to the environment, and its decrease could save more than 100,000 marine mammals every year* (*source: oceancrusaders.org ).
Another major reason for adopting the use of reusable bags is the contribution of bag papers to pollution. In fact, only a little part of the paper bag comes from a recycling circle, adding waste to the world. But also, it takes 91% less energy to recycle a plastic bag than it does a paper bag. Pretty stunning huh?
How long does a Reusable Bags last?

Reusable Bags have a lifetime of 4 years with daily use. Sure it depends on materials and on how they are used, but you can carry Reusable Bags for quite a while with some care & maintenance.

What are Reusable Bags made of?
Reusable Bags are usually made of PPNW (Polypropylene Non-Woven), a synthetic material similar to woven fabrics, without actually being knitted or woven together.
PPNW has the advantages of being strong but flexible, and it can be washed, tinted, printed and laminated depending on the customer's desires while continuing to be affordable.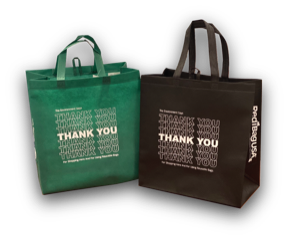 Personalise your reusable bags!

RediBag is the perfect supplier for reusable bags that fit your business, while meeting your budget and requirements.
Our reusable bags are available in non-woven, woven and laminated. So you can choose the materials that suit your customers' needs.
We can also customize bags for any application: from size to colors and print, we can supply reusable bags in any style, so they reflect your business vision.
Add your logo to your reusable bag, your customers will love them and you'll promote your brand in an eco-friendly way.
Buy reusable bags

Start making the difference and impress your customers with stunning reusable bags for your activity.
Look at our catalogue and contact us for more information on this product.