Deli bags make life easy for supermarkets, fast-food restaurants, grocery stores, or other food-related enterprises. They protect food items safely, keep them fresh, prevent spoilage, and reduce wastage, something necessary for cold storage items such as meat and cheese.
While looking for Deli Bag manufacturers & suppliers for your food business, it is important to round in on a trusted provider approved by USDA/FDA for safe food contact, provides economic commercials, and has top-notch quality for deli bags.
We have picked some of the best Deli Bag Manufacturers in the US, along with their products, specifications, and more!
RediBag USA
Bagbarn
Vera Plastics
Brenmar
Schilling Supply Company
Edco Source
Royalbag
Lindar
Bagmart
RediBag USA
RediBagUSA is a privately held enterprise established in the United States that produces plastic and paper products for the grocery, restaurant, deli, dry cleaner, and industrial markets. The business is a leader in the industry with many patents to its credit, more than 63 years of experience, and a presence in more than 20 countries across the globe.
With the mission "GREEN, ON BUDGET, IN TIME" in 2019, it produced 56.000.000 pounds for customers worldwide.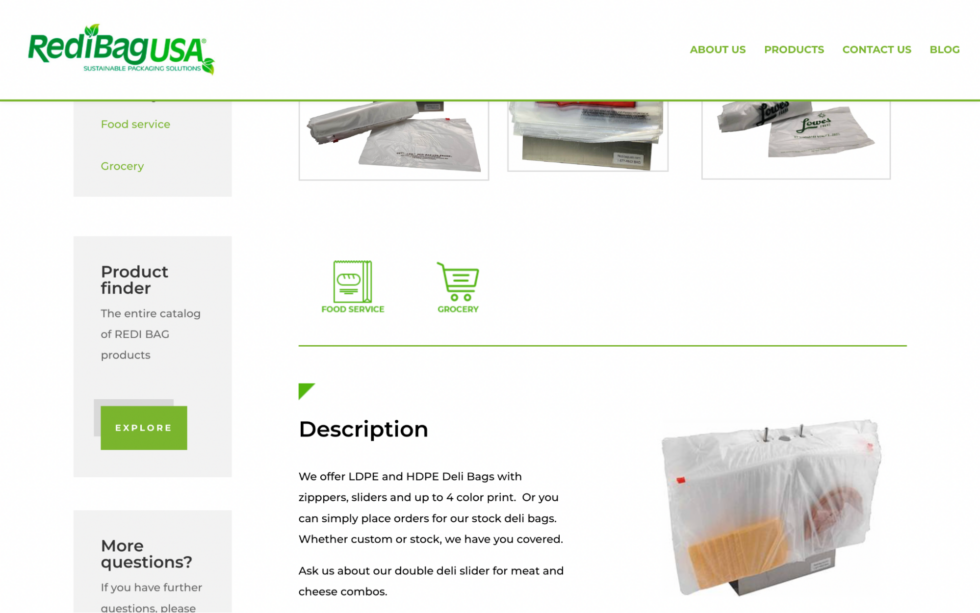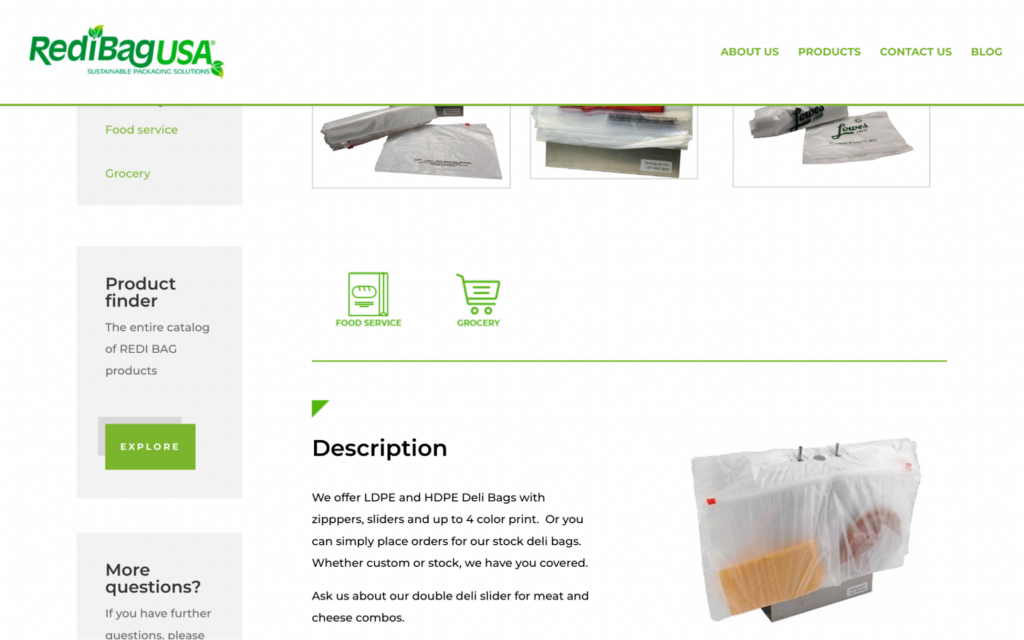 RediBagUSA offers LDPE and HDPE Deli Bags with zippers, sliders, and up to four color printing. Alternatively, you can place orders for its stock deli bags. When selling meat and cheese pairings as an easy grab-and-go alternative, its double deli slider bag is ideal. These bags have a single slider across the top that provides simple access to each side, which are each self-contained.
As you know, pre-packaged deli goods are a surefire way to boost sales at any store, and RediBagUSA's deli bags are the ideal packing for them. It also makes double deli slider bags for combinations of meat and cheese.
Here are the specifications for some of its deli bag products.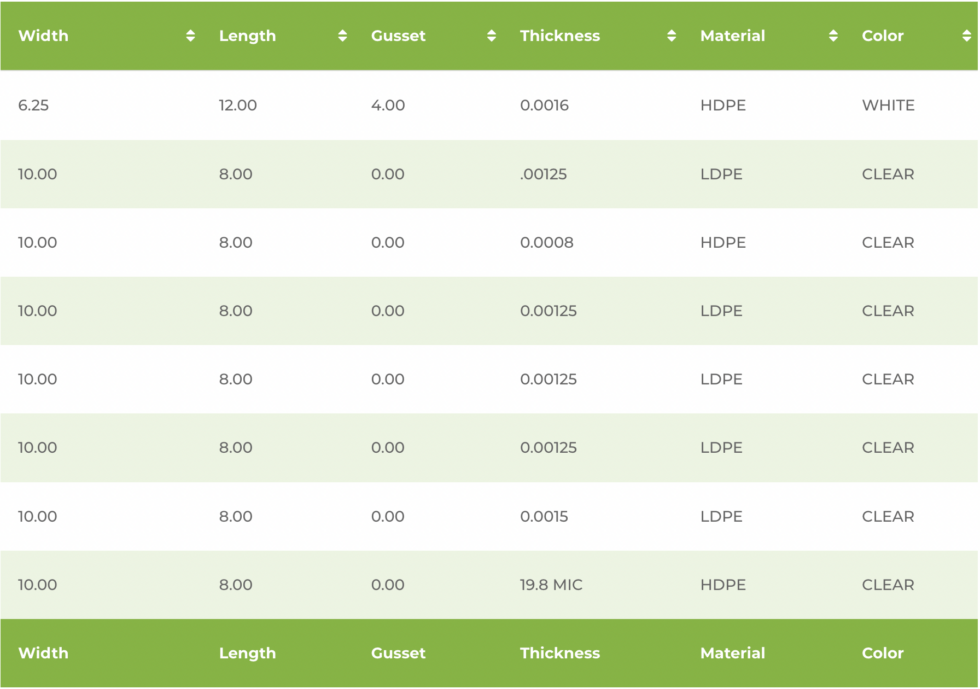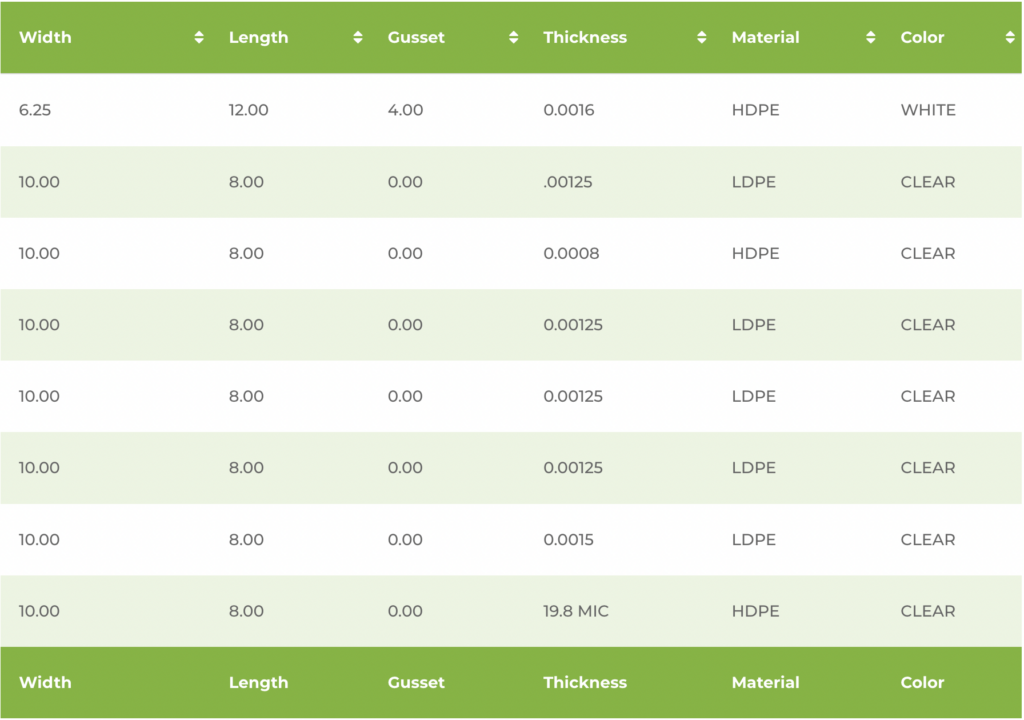 Whether custom or off the shelf, RediBagUSA has deli bags to suit every need.
Bagbarn.com
Bagbarn.com is a manufacturer of deli product packaging, including high-density flip-top saddle pack bags. Based in Indiana, it produces custom and regular reusable non-woven merchandise bags appropriate for grocery stores, advertising events, trade exhibits, and other retail settings.
The deli bags from Bagbarn have FDA and USDA approval. Its deli bags come in sizes ranging from 6.5 x 7 in. to 8.5 x 8.5 in., have a 0.55 mil thickness, and stock goods are readily available.
It offers pre-made and custom bags in various sizes and materials that are made with various uses in mind, ensuring that its goods are available in various marketplaces.
Vera Plastics
Vera Plastics' deli bags help you keep freshness locked in. The deli bags are made from 100% Low-Density Polyethylene (LDPE), which is sturdy, long-lasting, and translucent with high clarity. It has received ISO 9001:2015 certification as well as a Medical Device Establishment Licence in compliance with the Food and Drugs Act's Medical Devices Regulations.
The deli bags from Vera Plastics are made with a pre-opened zipper that prevents contamination and is approved for use in the food sector by the CFIA.
Vera Plastics offers custom-printed deli bags in four styles: conventional zipper, slider, saddled, and wicketed, should you have any special requirements. Graphic design and a customized label service are also offered to help you personalize your brand.
Arplast Polybags
Arplast's Plastic Deli Saddle Bags come with 10 x 8″ dimensions and are made of high-quality LDPE. These deli bags are perfect for any deli or restaurant and are designed to protect your food products from moisture spoilage and ensure the food remains fresh. These are shipped pre-opened for saddle stand use and ease of deli handling.
Saddle Deli Bags are pre-printed "Deli Bag" with closure choices: ziplock closure deli bag or 2″ flip top closure on the bag. The prices for deli bags are:
Pricing
10X8, HD Printed " Deli Bag" with 2″ Flip. For Saddle Stand Use, Pre-Opened= $19.90
10X8, LD Reclosable Zip Lock Style Printed " Deli Bag" with 1″ Flip. For Saddle Stand Use= $22.50
Brenmar
Brenmar is a family-run business based in La Vista, Nebraska, west of Omaha. Since 1989, they have been serving supermarkets, produce stalls, bakeries, processors, and restaurants.
In terms of food packaging and takeout supplies, Brenmar offers a vast selection of goods. Also available are retail goods like bags, price tags, shelf merchandising tools, and signs.
The disposable resealable deli bags from Brenmar are of excellent quality, simple to close, and keep your food fresh.
Pricing: For 10 x 8 in. dimensions, 1000 Pack, the price is $46.23(originally $54.39). Plain, custom, and seasonal resealable deli bags are available from Brenmar.
Schilling Supply Company
Schilling Supply Company (previously known as Schilling Paper Co.) is a single-source provider of business solutions and supplies. A family-owned company founded in 1897, specializes in packaging, janitorial, industrial, food processing, safety, and specialty product needs.
Schilling Supply Company offers deli bags in various customization and designs- for instance, Deli Bag Hi Density Fold Top, Deli Bag Snap N Fill Zip Saddlepack, Deli Saddle Bag Stand, etc. The bags are made of High-Density material, making them strong and economical, while the flip-top closure adds extra utility.
Pricing: Deli bags can vary depending on the specification, from around $21.90 to $266.77.
Edco Source
Edco Source, a part of Edco Supply Corporation, launched in 2018, is a leading supplier of military specification packaging.
To provide commercial packaging for the industrial, medical, retail, and food industries, Edco Source leverages its history of operations and packaging experience in the military sector. It provides thousands of plastic bags, tubing, and sheets in various sorts, sizes, and gauges and is known as "The Easy Way to Buy Bags."
Edco Source is one of the leading wholesale food bag providers in the United States. Its deli bags are perfect for storing snacks, baked goods, sweets, apples, deli meats, almonds, and other foods because they are FDA-approved for direct food contact.
Numerous deli bag products are available to meet your demands, and these high-quality bags keep the food inside intact, fresh, and safe. Its prominent food bags include:
Polypropylene (PP) bags
Saddle Pack Deli Bags
Stand-Up Pouches
Sandwich Bags
Bottom and Side Gusseted Bags
Bag Ties and Closures
Royalbag
Royalbag is a leading plastic bag supplier in the US. It caters to businesses of all sizes and even individuals needing plastic zipper bags. The bags are made of virgin polyethylene, ensuring high quality. Royalbag's stock line includes ziplock bags, clear reclosable bags, white block bags (for easy marking), trash liners, custom poly bags, and much more. The company has trusted customers like Kellogg's, Amazon, and more.
Royalbag's Deli Slider Bags are USDA and FDA-approved and deemed safe for food, making them an excellent choice for packing and storing gourmet deli sandwiches, meats, sliced cold cuts, etc.
These bags are packed in saddles designed to fit standard Deli Bag stands. Each saddle has 50 packed Slider deli bags.
Pricing: 10 X 8, Slider Top Deli Bags (Unprinted) with 1000/case has prices between $88.40 & $104.00.
Lindar
Lindar, based in Baxter, Minnesota, is a plastic thermoforming business that produces a wide range of precisely engineered, high-efficiency products. Lindar has provided services to clients all around the globe for almost 30 years.
Lindar is dedicated to upholding ethical, responsible, and professional standards that meet or surpass all statutory guidelines in order to contribute to the development of a healthy, sustainable future for our planet and people.
The deli bags from Lindar are FDA-approved thermoformed packaging that keeps your food safe & fresh. Its essential food storage products are:
Bakery Containers
Deli Containers
Herb Containers
Produce Clamshells
Utility Containers
Plastic Bagmart
Plastic BagMart, founded in 1987, is a distributor of flexible packaging material, such as plastic and paper bags, stretch film, and bubble wrap with national distribution capability. It offers a complete range of printed packaging solutions for all flexible packaging applications:
Industrial
Institutional Food and Non-Food
Retail – Food and Non-Food
Healthcare and Environmental Science
Plastic Bagmart has a wide variety of poly bags, merchandise bags and film along with custom bags to suit your needs as well.
Some of the deli bag products are:
Seal Top Deli Bags
Slide Seal Deli Bags
Flip Top Deli Bags (Saddle Pack)
Bulk Deli Meat Slide Seal Bags
Pricing: The prices for deli bags manufactured by Plastic Bagmart depend on the product & specifications and can vary from $13 to $117.
Servous
Servous offers sustainable retail and food packaging solutions manufactured with renewable resources. It caters to Servicing Supermarkets, Retailers, C-Stores, QSR & Foodservice. Some of the core products of Servous are:
Bags
Trays
Containers
Gloves
QSR/Quick Service Restaurants
Foodservice Packaging
Retail Packaging
Servous is the leading wholesaler and vendor of deli bags in the US and manufactures a wide range of types and styles of deli bags for cheeses, cold cuts, and more. These bags help you extend the food product's shelf life, retain the taste, reduce wastage, and save money & resources.
It offers customization to reflect your brand's personality and takes in custom requirements.
So, which is the best deli bag manufacturer?
With the most complete and diversified selection of products, RediBag USA is the company you are looking for. Wondering why?
We handle the production, distribution, and logistics capabilities to serve some of the world's largest international supermarkets and quick-service restaurants.
Rely on the Experience
Contact us for more information about our offer and how we can satisfy your every packaging need! Get the best price from the top companies in the industry!