Reusable bags are an eco-friendly, easy and economical solution compared to single-use bags. Different materials are used to produce reusable bags: PPNW, PPNW Laminated, RPET, and Jute Bags.
Find out our list of Top Reusable Bag Manufacturers! Reusable bags are the best way to reduce the amount of plastic bags thrown away after grocery shopping and waste sent to landfills.
People often use reusable bags to carry their groceries or, more generally, to go shopping. An excellent way to be environmentally friendly and comfortable at the same time.
The question now is: who produces Reusable Bags?
This article will find a list of Top Reusable Bag Manufacturers: brands and organizations specialized in this field.
RediBag USA
Lotus Sustainables
Eco-Bags Products
Bagbarn.com
ToteBagFactory
CustomEarthPromos
RediBagUSA is a US-based, privately-owned business that delivers plastic and paper products to the grocery, restaurant, deli, dry cleaner, and industrial segments. The company has a global presence in over 20 countries, has produced 56.000.000 pounds in 2019, and is a veteran in the field with more than 63 years of experience.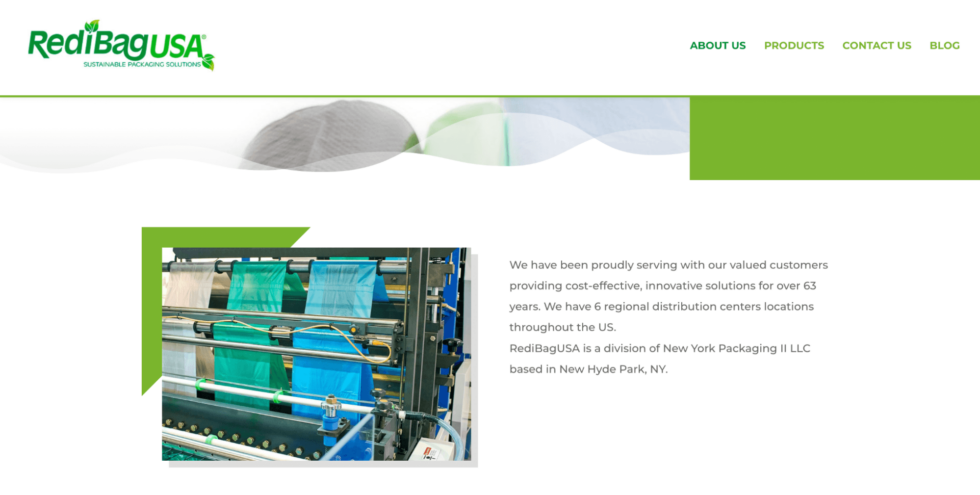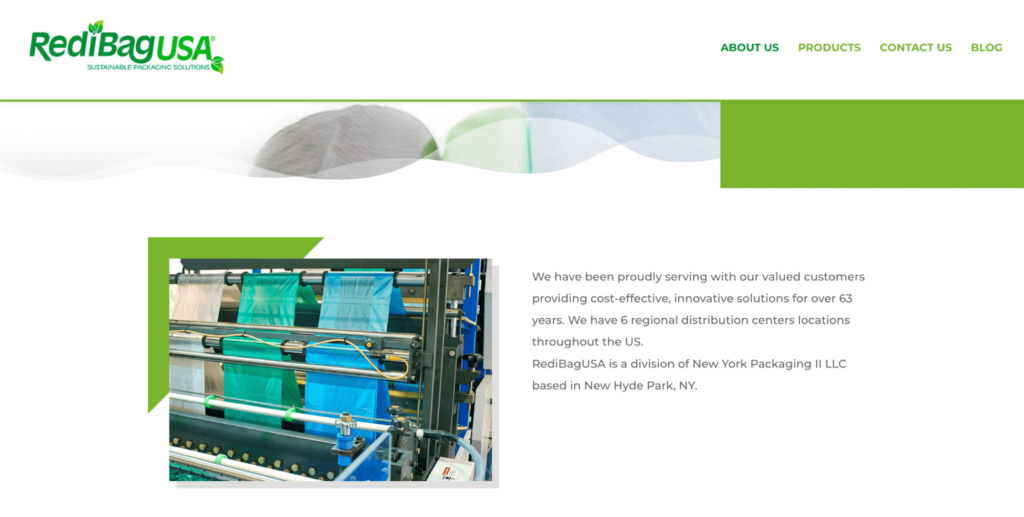 RediBag has many patents to its credit with a vision of "Green, On Budget, In Time." Some of the many products of RediBag USA include:
Reusable Bags
Paper bags
Gloves
Wine carrier, seafood bags
Shopping Tote bag
Deli bags
Can liner bag
Produce Bags (Roll n Go and Pre-Opened Bags)
The reusable bags offered by RediBag are durable, diverse, and cost-effective and are an eco-friendly way to reduce plastic use. Look at the product finder to find the best fit for your needs.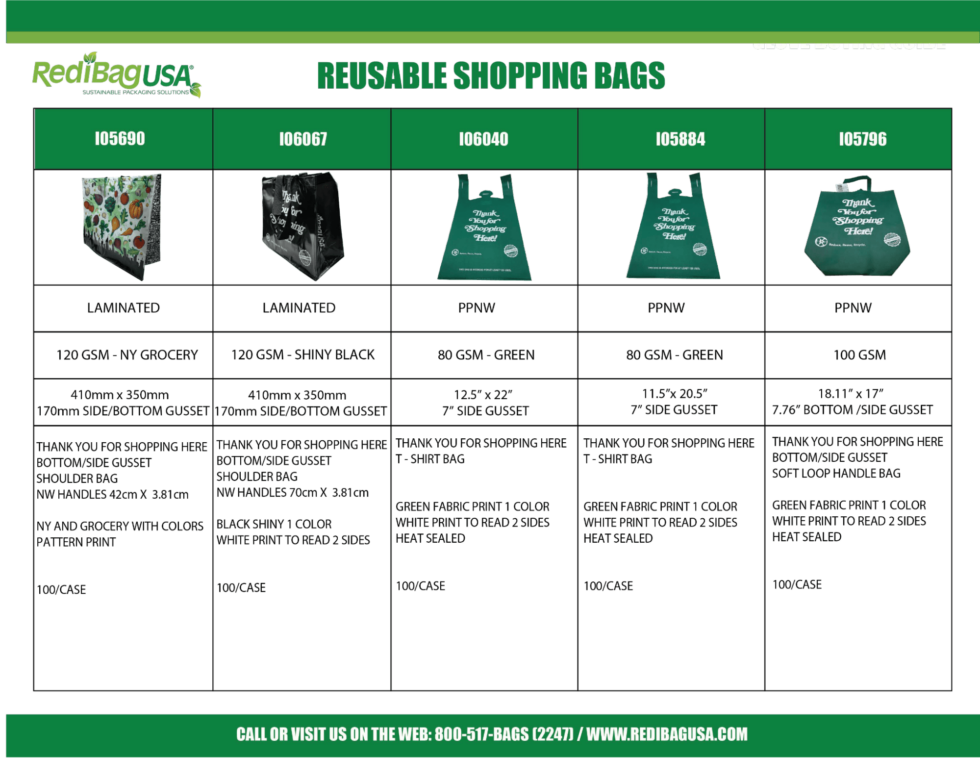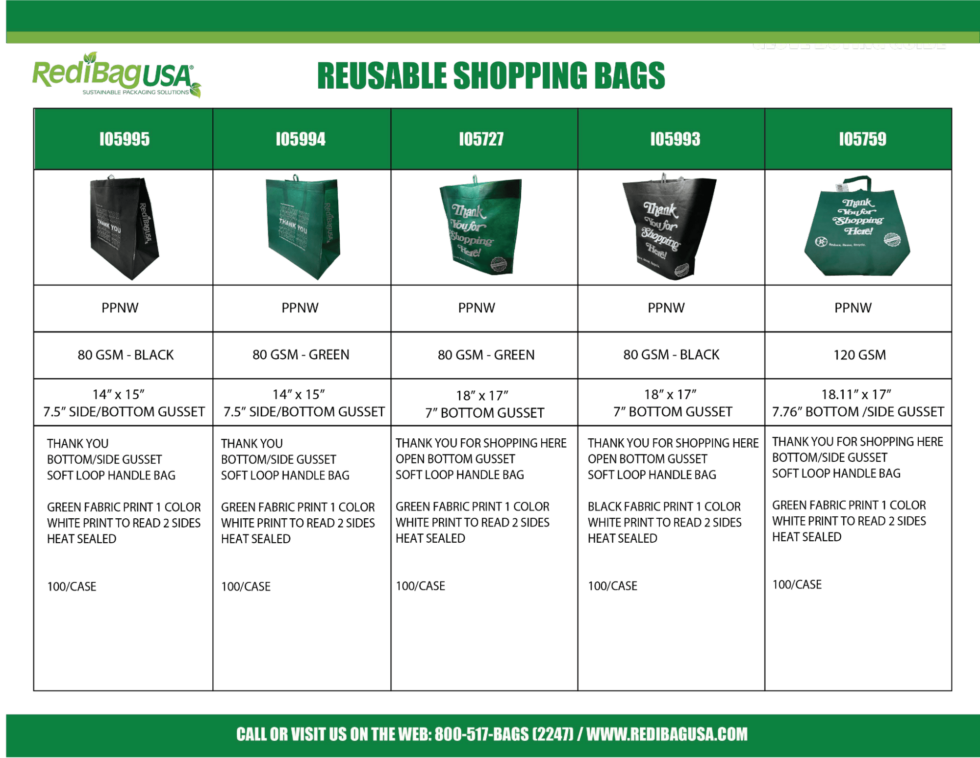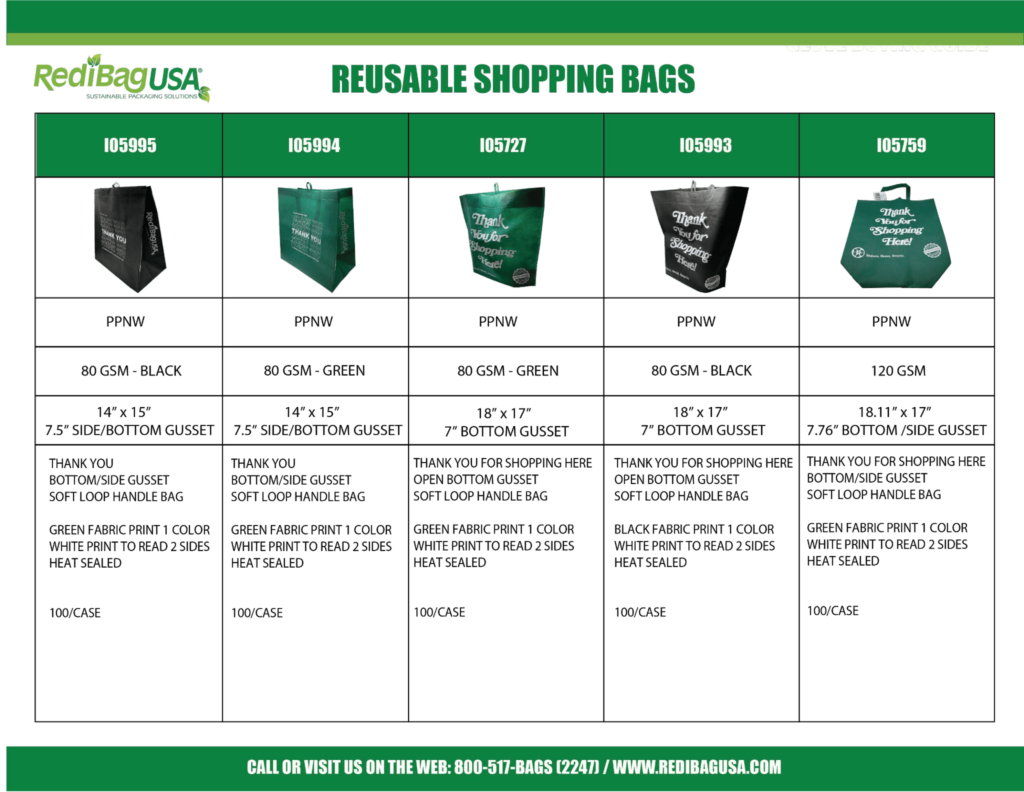 RediBag customizes the bags for your application; sizes, styles, colors, and print; the bags are available in non-woven, woven, and laminated varieties.
Lotus Sustainables is a business based out of San Diego, California, on the mission to eliminate plastic entirely from shopping.
In 2016, after the state-wide ban on plastics, the founders developed a better way of packing groceries that would work for everyone and, at the same time, address the growing clutter of cheap reusable bags.
One of the first bags manufactured was the Lotus Trolley Bag which is environmentally friendly and reusable. Some of the features of the bags offered by the company include insulation, pockets, and removable rods. According to Lotus Sustainables, they have removed about 2,750,000,000 plastic bags with their initiatives.
The products offered by Lotus include:
Lotus Trolley Bag
Lotus Cart Clip
Lotus Produce Bags → Cotton & Premium Mesh
Cost: Currently, a Lotus Trolley Bag comes at a discounted price of $44.99 (the original price was $59.99).
Eco-Bags Products, Inc. was opened in 1989 with a simple goal in mind- to produce quality bags at affordable prices so that "Reusable becomes a way of life."
They started with the Ecobags Classic String Bag, and there has been no looking back since then. Further, the business also offers a range of products, such as:
Tote Bags
Shopping Bags
String Bags™
Produce Bags
Lunch Bags
Zero Waste Kits
Spa And Travel Bags
Printed Bags
EcoBags offers custom printing of bags and design assistance, takes Made to Order requests, and also has SA8000 certifications available.
Cost: A tote bag from EcoBags will cost you from $7.69 to $18.99.
ToughBuilt Industries
ToughBuilt Industries Inc. is based in Lake Forest, California, and manufactures reusable bags for various purposes, primarily for the building & construction industry in the United States.
When it comes to reusable bags, ToughBuilt provides
Massive Mouth Bags
Modular Totes
3-Pack Fastener Bag
3 Pack Toolmate Softboxes
3 Pack Tower Softboxes
3 Pack Fastener Bags
Clip Tech With → 8″ Tote + Pouch With Cliptech & 3-Piece Builder Tool Belt Set
Pouches, Belts, and accessories
The reusable bags offered by them simplifies the storage of supplies, provide heavy-duty mesh windows to see everything at a glance and make the organization efficient, are durable, come with immense strength to carry tools & equipment with ease, and also comfort they carry it around.
Based in Indiana, Bagbarn.com manufactures custom and standard reusable non-woven merchandise bags suitable for groceries, promotional events, trade shows, and other retail environments. It carries stock & custom bags in varying materials & sizes designed with multiple purposes in mind, ensuring that its products reach a wide range of markets.
Products carried include:
Die-cut bags
Plastic retail bags
Stock poly bags
Wicketed bags
Stock merchandise bags
HDPE bags
Ice bags
Anti-static bags
Pallet covers & t-shirt bags
Additional products include gusseted bags, trash bags, bakery bags, food service bags, drum/barrel liners, bin/Gaylord bags, hospital bags, poly tubing & polypropylene bags. For the environment concerned, biodegradable bags are available.
Totebagfactory is one of the well-known ASI-verified reusable bag distributors in California and caters to individuals and businesses. They offer a myriad of reusable solutions at wholesale prices.
Some of their products are Cotton Canvas Tote Bags, Drawstring Bags-Backpacks, Wine Bags, and Laundry Bags.
ToteBagFactory also produces backpacks, bandanas, towels, duffle bags, briefcases, and specialty bags.
Cost: The bags from ToteBagFactory come at wholesale prices and are thus cheaper. You can buy a tote bag ranging from $1 – $10 depending on the features, materials used, and personalization options.
Founded in 2009, CustomEarthPromos is headquartered in Delray Beach, Florida, and has the vision to make the world a better place.
They manufacture reusable bags with 100% recycled materials, such as water bottles, and also take custom requirements for bags if you need- logo printing, for instance. CustomEarthPromos offers products such as:
Reusable Bags
Seed Paper
Reusable Bottles
Lanyards
Eco Promo Items
Masks & Supplies
The minimum order for in-stock production items is typically 100 pieces from CustomEarthPromos, while for overseas orders, it is typically 500-1000 pieces, depending on the product.
Cost: You can get a cotton Tote bag from CustomEarthPromos at prices ranging from $1-$7.
Veno Bags
Founded in 2016 in Los Angeles, California, Veno envisions reducing the negative impacts that single-time-use plastic bags create on the environment. They provide a full line of reusable bags such as grocery bags, produce bags, multiuse totes, lunch bags, insulated bags, moving bags, and storage organizers for a cleaner future.
Most of the products Veno uses to manufacture the bags are made from 80% of post-consumer recycled material. This prevents non-biodegradable plastic waste from polluting the land, oceans, and lakes.
You can use Veno bags for various uses, such as for groceries, insulation, moving, and storage. It offers free shipping and 3day'sys refund as well.
Cost: You can buy a 4-Pack Reusable Grocery Shopping Bag With a Reinforced hard bottom at a Regular price of $24.99 and a discounted price of $21.99 with Veno.
Baggu
Baggu was founded in 2007, and sustainability has been part of its mission since its inception. It manufactures reusable shopping bags and specializes in efforts to reduce the waste that comes as part of operations and production processes.
The products are built keeping in mind minimal waste design, longevity, and using as few materials as possible. The materials used for manufacturing reusable bags include
Recycled Nylon
Recycled Canvas
Vegan (They phased leather out of the product line in Fall 2020)
Recycled Mesh & Polyfill
Recycled Paper Packaging & Mailers
Biodegradable Poly Bags
Bio Dry Packets
If your nylon or canvas bag has carried its last load, Baggu also offers to recycle it and for you to reuse it at a discounted price. You can either drop by their Brooklyn or San Francisco stores or mail it via post.
BagPodz
BagPodz offers reusable bags and a convenient & efficient way to store your bags to reduce wastage and increase usage.
These pods can fit snuggly into your purse, glove compartment, or shopping cart and can be machine-washed. The materials used to manufacture the bags & pods are Bluesign® certified. Therefore, all harmful substances are removed right from the beginning of the manufacturing process, and raise the standard for an environmentally-friendly and safe production process.
The bags are similar in size to large single-use plastic bags and are durable, with the strength to hold about twice the grocer.
Cost: You can purchase a BagPodz for $24.95.
Planet E Bags
Planet E is a business offering a range of reusable essentials to eliminate single-use plastic items in daily life. They cater to companies and individuals with their goal of more sustainable living.
Their first product OG-Box was launched in 2008; it is a collapsible shopping box manufactured from recycled water bottles.
Some of the products you can purchase from Planet E include
Collapsible Boxes
Face masks
Food Cube™
Grocery Goods
Picnic Coolers
Shopping Totes
Reusable Food Storage
Cotton produce, mesh, and shopping bags
Cost: You can purchase an Insulated Tote Bag from Planet E for $30. There is free shipping if you buy for more than $45.
With that, we're wrapping up the list of top reusable bag manufacturers in the US for 2022. Stay tuned; we'll update the article with more in the future!
So, which is the best reusable bag manufacturer?
With the most complete and diversified selection of products, RediBag USA is the company you are looking for. We handle the production, distribution, and logistics capabilities to serve some of the world's largest international supermarkets and quick-service restaurants.
Rely on the Experience
Contact us for more information about our offer and how we can satisfy your every packaging need! Get the best price from the top companies in the industry!