Plastic bags are popular with consumers and retailers because of all the practical advantages they can offer: they are light, strong, and cheap ways to transport food and products home, but most importantly, hygienic.
Several studies have found the level of bacteria in most grocery stores alarming (from cart handles to refrigerator doors).
A plastic produce bag is the best solution to avoid transferring billions of germs from your cart to your dinner table. 
Furthermore, RediBagUSA has gone the extra mile to design super-safe solutions to protect you and your food.
Let's look at some of their products. 
GRAB & GO – RediBagUSA
Grab & Go is the newly patented reusable produce bag by RediBagUSA.
This innovative yet straightforward bagging system minimizes the risk of cross-infection, ensuring that each produce bag has limited human exposure until the use by the customer.
Grab&Go is produced with food-grade HDPE resin, making them a recyclable, food-safe solution.
Why do we like it?
It is the most sanitary way to dispense bags providing one more layer of protection to customers. This is a total no touch system
Headerless bags – RediBagUSA
In the last two years, we have all faced a dilemma: how to open plastic produce bags without licking our fingers?
Even before Covid, let's say this wasn't the most hygienic solution to avoid the two sides of the bag sticking together.
With a virus that spreads through respiratory droplets, the task has become impossible. 
RediBagUSA presents its headerless bags to eliminate this sanitation issue.
The advantages of such solutions are multiple: these bags have no plastic headers or cores to dispose of. Retailers can add more bags without the need to wait for all the bags to be exhausted. 
Why do we like it?
Headerless produce bag is a minimal usage efficient solution, perfectly suitable to the actual sanitary situation.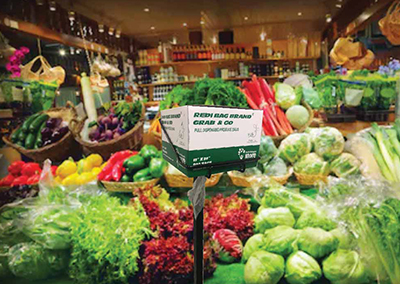 Pre-Opened Produce Bags – RediBagUSA
RediBag USA's Pre-Opened Bags are designed to be used in the retail environment to help reduce the risk of cross-contamination because of COVID. The rolls fit most existing hardware and are available pre-printed or customized (Minimums apply) and can be hung horizontally or vertically.
Why do we like it?
Pre-Opened Bags is a great solution to shop in total safety at the supermarket in a time when we really have to be careful about hygiene.
The RediBag solution for smaller profiles produce bags that are economical and dependable.
Why do we like it?
The Roll N Go fits every produce section requirement, plus it comes with a variety of print configurations and sizes to meet all your needs.
Contact us for a customised quotation
Our staff is always available to answer your inquiries, find out more about our produce bags here or contact us via our contact form below.